How to Charge Your Electric Vehicle?
Slow, fast or rapid – what's the difference between chargepoints? And should you charge at home or on the road? Everything you need to know about charging an electric vehicle.
As the range of electric vehicles expands and charging technology evolves rapidly, finding the right charger to use to top up the battery on an electric vehicle can seem like a confusing undertaking.
The good news is that both the number of chargepoints and average driving ranges are increasing dramatically as next generation EVs arrive in the showrooms. With the increased choice of vehicles, however, comes increased complexity when it comes to charging options.
Socket types
The three most common types of socket are:
Type 2 + CCS, for slow, fast and rapid charging

Type 1 + CHAdeMo for slow fast and rapid charging

Tesla Type 2 for dedicated Tesla chargepoints – including rapid
Most EVs are supplied with just one cable – but this will usually cover the full spectrum of charging speeds.
Charging speeds
The most common charge speeds are:
Slow: Up to 3kW – only suitable for home charging overnight

Fast: 7 – 22kW – connected via the cable supplied with your vehicle

Rapid: 43 – 50kW – Cables provided (tethered) to charge EVs with rapid charge capability to 80 per cent capacity in under an hour

Maximum charging rates may also dictated by the vehicle's on-board charge management system, which may restrict the rate of recharge on some plug-in hybrids and smaller EVs, but doesn't usually prevent them from using high speed chargers.
While all this may seem overwhelming to a newcomer, the options can be simplified by focusing on three key elements: home charging, workplace charging and public chargepoints.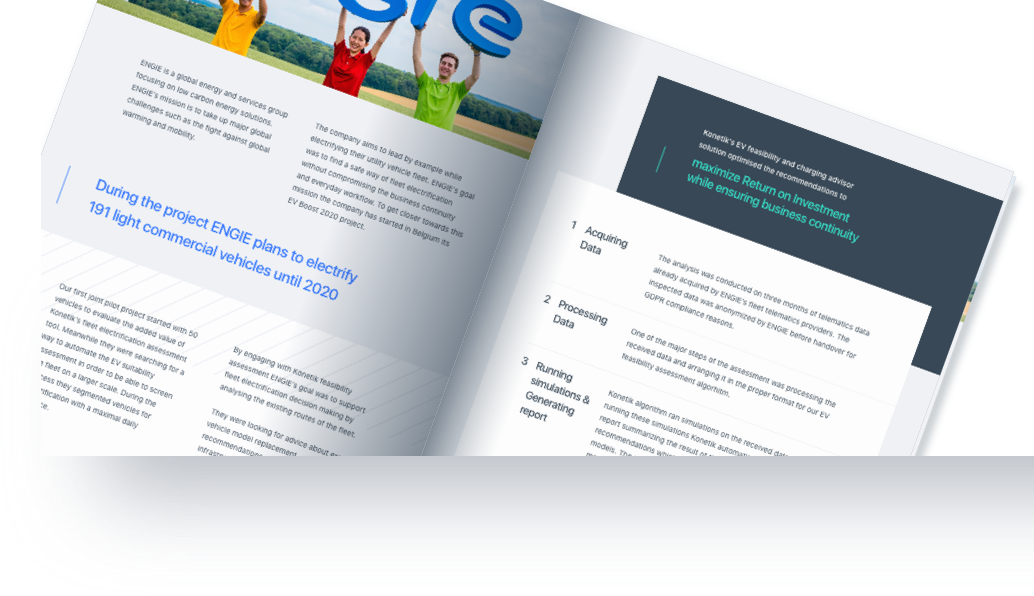 ENGIE - Going electric with Light Commercial Vehicle Fleet
Home charging
Most high mileage company car drivers will require a home chargepoint where the vehicle is plugged in at the end of each day so that the battery is fully charged the following morning. This is the key difference between running an EV and a petrol or diesel vehicle. Ensuring the battery (tank) is full every morning minimises the likelihood of needing to recharge en route.

Wall-mounted home chargepoints have either 3kw or 7kw outputs and need to be professionally installed. The vehicle manufacturer will provide guidance on installing the most appropriate chargepoint and socket. Some first generation EVs can be charged from a standard domestic plug socket via a transformer, but this takes a long time and is not recommended. Domestic chargepoints are usually capable of completing a 100 per cent charge in less than eight hours. Read more about home charging here.
Workplace charging
If your employer is committed to switching to EVs, it's likely that a bank of chargepoints will shortly be installed in the company car park. The good news is that these are more likely to be 7kW or even 22 kW and the even better news is that the electricity could be free! Whenever you're in the office, it makes sense to take full advantage to top up the battery – especially if the boss is paying the electricity bill! A 22kW workplace charger will usually complete a 100 per cent charge in less than 4 hours.
Public chargepoints
Occasionally, taking a time-out to top up the battery during a long journey will be necessary, which will require a bit of advanced planning. Your EVs satnav will likely include chargepoint locations, but if not, download an App such as Chargepoint or Open Charge to your desktop or phone and plan your route accordingly. Again, it's important to identify a recharge point that's compatible with your car's charge sockets, but the Apps will generally specify the socket type and – in some cases – provide real-time information on whether a socket is available. There is generally a charge for using a public chargepoint – which will be higher than the cost of charging at home. And there are several different network operators with which you may need to set up an account in advance.
Popular models and their charging options
Renault Zoe: Type 2 Slow, Fast & Rapid
Nissan LEAF Gen 2: Type 2 Slow & Fast + CHAdeMO Rapid
BMW i3: Type 2 Slow & Fast + CCS Rapid
Tesla Model S: Type 2 Slow & Fast + Tesla Supercharger Rapid
Jaguar I-Pace: Type 2 Slow & Fast + CCS Rapid
Audi e-Tron: Type 2 Slow & Fast + CCS Rapid
So in summary, while the variables might seem confusing at first, once you've chosen your vehicle, the options narrow down considerably. Most second generation EVs are fully capable of fast and even rapid charging, so as long as you remember to top up overnight at home – or at the office chargepoint before setting out – range anxiety really is a thing of the past.
Image source: Pixabay